COVID 19 Resources for Older Adults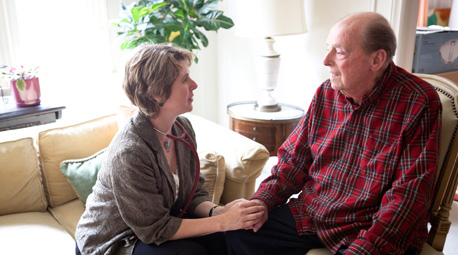 In these extraordinary times when we are sheltering at home, we are facing new challenges to maintaining our health and wellbeing. Not being able to leave or have visitors can mean that basic needs cannot be met.  It's harder to go shopping, get supplies or get medications. Social connection is harder as well.  If you are older, this can have a particularly big impact on your health.
As a community of doctors, social service providers, legal experts and caregivers, we are updating these as often as we can to support Bay Area residents.  We also will keep this page updated and linked to news on COVID19 in older adults. 
HELPFUL GUIDING QUESTIONS
If you need resources or are reaching out for someone who does, consider asking these things below and look at our resources list. When available, resources in different languages (español, 中文) have also been provided.
Caregiving/support
Do you have enough help right now?
Are you able to schedule a video call instead of an in-person visit with your doctor?
Medications and supplies
Do you have enough of your medications? 
Do you need medications delivered? 
Do you have all of your medical supplies (incontinence supplies, oxygen, wound supplies): 
Check out: Taking Meds
Eating
Do you have enough food and access to meals?
Check out: Eating
Socializing
Are you talking or seeing someone regularly, such as a family member or friend? 
Would you like someone to call you regularly to check in? 
Check out: Socializing
Getting Online
Emergency support and medical preferences
Do you have your emergency contact or surrogate decision maker written down some where or recorded?
Do you have an advance care planning documents that your doctors should know about?
Check out: Providing Care/Supporting Someone in Need
Housing
Being active
Would you like ideas for how to stay physically active?
Check out: Moving Around
Can I help you with anything else?
Food
COVID-Related Mobile Food Support
Date Added: 3/20/2020
Accessing food for you, your family, and your pet may be challenging so here is a list of locations in the Bay Area that are providing food for older adults, a list of grocery stores may shop for food, online grocery delivery services, and stores that provide pet food and pet services on the go.
Every Bay Area Grocery Store with a "Senior Hour"
Date Added: 3/25/2020
Here's the current list with many thanks to SF Gate, Eater, and USA Today for their initial research and many help from our followers on Facebook who helped fill in the blanks.
Medications
San Francisco Pharmacies That Prepare Bubble Packs
Date Added: 3/20/2020
A directory of San Francisco Pharmacies that will provide bubble packs, some have services available in other languages (Spanish, Chinese).
Workout Videos on Demand
CorePower Yoga On Demand
Date Added: 3/20/2020
The strength-focused yoga studio is offering free access to online classes
Down Dog Fitness App
Date Added: 3/30/2020
Due to the current outbreak, many people are avoiding gathering in large groups, including at yoga studios and other fitness spaces. Down Dog believes that stressful times like these are precisely when people need wellness practices the most, and are committed to doing their part to help out. These yoga tutorials also feature modified poses, such as chair yoga, for all people of all fitness levels to enjoy.

So that anyone who wants to practice at home can do so, we are making all of our apps - Down Dog, Yoga for Beginners, HIIT, Barre, and 7 Minute Workout - completely free until May 1st.
Internet Access
Internet Essentials from Comcast
Date Added: 3/20/2020
Comcast is offering Free and Reduced Wifi in response to emergency measures associated with Coronavirus (COVID-19).
3 Free Months from Sonic
Date Added: 3/20/2020
During the COVID-19 outbreak, Sonic is offering three months of free internet access and unlimited nationwide home telephone service to households with K-12, college students, or senior citizens 60 or older.
Employment Relief
Caregiving
Date Added: 3/20/2020
If you're unable to work because you are caring for an ill or quarantined family member with COVID-19 (certified by a medical professional), you can file a Paid Family Leave (PFL) claim. PFL provides up to six weeks of benefit payments to eligible workers who have a full or partial loss of wages because they need time off work to care for a seriously ill familymember or to bond with a new child. Benefit amounts are approximately 60-70 percent of wages (depending on income) and range from $50-$1,300 a week.
Reduced Works Hours - Unemployment
Date Added: 3/20/2020
If your employer has reduced your hours or shut down operations due to COVID-19, you can file an Unemployment Insurance (UI) claim. UI provides partial wage replacement benefit payments to workers who lose their job or have their hours reduced, through no fault of their own. Workers who are temporarily unemployed due to COVID-19 and expected to returnto work with their employer within a few weeks are not required to actively seek work each week. However, they must remain able and available and ready to work during their unemployment for each week of benefits claimed and meet all other eligibility criteria. Eligible individuals can receive benefits that range from $40-$450 per week.
Workers - Sick or Quarantined
Date Added: 3/20/2020
If you're unable to work due to having or being exposed to COVID-19 (certified by a medical professional), you can file a Disability Insurance (DI) claim. DI provides short-term benefit payments to eligible workers who have a full or partial loss of wages due to a non-work-related illness, injury, or pregnancy. Benefit amounts are approximately 60-70 percent of wages (depending on income) and range from $50-$1,300 a week.
For guidance on the disease, visit the California Department of Public Health website.
State of California Employment Development Department
Date Added: 3/20/2020
The EDD has compiled these resources to provide you general guidance as to what programs are available and what situations may be applicable to your circumstances. Visit the links below for information on how to apply for the program you believe best fits your needs and the EDD will determine your eligibility for benefits.
VISIT EDD FREQUENTLY ASKED QUESTIONS
EDD Preguntas frecuentes – Coronavirus 2019 (COVID-19)
Date Added: 3/26/2020
información ofrece una orientación general sobre los programas disponibles y las situaciones que podrían aplicar a sus circunstancias. Le animamos a que solicite beneficios del programa que usted considere se acomoda mejor a sus necesidades. El EDD determinará si usted es elegible para recibir beneficios
Preguntas frecuentes – Coronavirus 2019 (COVID-19)
EDD Servicios por Internet
Date Added: 3/26/2020
Small Businesses
Free Virtual/Online Gatherings
Well Connected
Date Added: 3/20/2020
Well Connected is a community made up of participants, staff, facilitators, presenters, and other volunteers who care about each other and who value being connected. All groups are accessible by phone from wherever you are at no cost to you. Whether you like art or zoology, music or meditation, there is a program for you. Each Well Connected session offers groups and classes on a wide range of topics. You're sure to find one that interests you. And Well Connected meets 365 days a year, so there's always a chance to connect.
Well Connected members call in via a toll-free number at a set time each week, with some groups also offering the option to connect via computer, tablet, or mobile device. Most groups last 30 minutes to an hour with around 12 participants. Newcomers are always welcome! If you don't feel like talking at first, you're welcome to just listen as long as you've let the group know you're there.
If you're ready to register, please contact us at 877.797.7299, or [email protected] 
Bien Conectado (Well Connected Español)
Date Added: 3/26/2020
Well Connected Español es una comunidad compuesta de participantes, empleados, facilitadores, presentadores, y otros voluntarios que se preocupan por los demás y que valoran estar conectados. Todos los grupos son accesibles por teléfono o computadora desde cualquier lugar sin costo alguno. Es seguro que encuentre un tema de interés. Well Connected Español es ofrecido todo el año y casi todos los días, así que siempre habrá una oportunidad de conectar.
Miembros de Well Connected Español llaman a través de un número de teléfono gratuito en un tiempo establecido cada semana, algunos grupos también se ofrecen a través de la computadora, tabletas, o dispositivos móviles/celular. La mayoría de los grupos duran de 30 minutos a una hora con alrededor de 12 participantes. ¡Siempre aceptamos nuevos participantes! Si no tiene ganas de hablar al principio, solo puede escuchar, siempre y cuando avise que está en la llamada.
Descargue Forma de Registración
Si está listo para registrarse, póngase en contacto con nosotros marque 877.400.5867 o por correo electrónico a [email protected]
Bien Conectado (Well Connected Español)
Free Online Activities
Bay Area events you can stream during 'shelter in place' order!
Date Added: 3/20/2020
Tired of Netflix? Watch local theater, musicians, and entertainment for free. Stream an event TODAY!
Upcoming Online Events with Senior Planet
Date Added: 3/20/2020
Aging with attitude. Senior Planet harnesses technology to change the way we age. Their courses, programs, and activities help seniors learn new skills, save money, get in shape, and make new friends. Senior Planet is now regularly streaming online events that can be joined from anywhere in the world. When online events are scheduled, you'll see them on this page. Check out their listing of upcoming events such as how to spot fake news, online yoga classes, learning about the music streaming service Spotify, or join a virtual gathering on Show and Tell about your Pet.
How to use Zoom Videoconferencing
Date Added: 3/20/2020
Zoom, a company focused on providing videoconferencing solutions, is offering support during the COVID-19 pandemic by providing you tips and tutorials on how to most effectively use their video conferencing tool. This site features live daily demos, free webinars, tutorials, and blogs to read up more on how to use this technology.
16 Free Courses from Lynda.com
Date Added: 3/20/2020
Lynda.com is offering 16 free courses to help you with learning new new skills in remote working and also stress relief.
Dementia Caregivers
Coronavirus (COVID-19): Tips for Dementia Caregivers from the Alzheimer's Association
Date Added: 3/20/2020
Most likely, dementia does not increase risk for COVID-19, the respiratory illness caused by the new coronavirus, just like dementia does not increase risk for flu. However, dementia-related behaviors, increased age and common health conditions that often accompany dementia may increase risk. Caregivers of individuals living with Alzheimer's and all other dementia should follow guidelines from the Centers for Disease Control (CDC). Click below to learn more.
Activities at Home: Planning the Day for a Person Living with Middle or Late-Stage Alzheimer's, from Alzheimer's Association
Date Added: 3/20/2020
A person living with dementia will eventually need assistance in planning daily activities and maintaining an active lifestyle. Check out this guide for some tips and guidance on this topic.
IHSS
IHSS Coronavirus Updates
Date Added: 3/30/2020
During this period, In Home Supportive Services (IHSS) has modified their services in order to support your care and provider needs without interruption. Click below to learn more about these changes and how to get in touch.
Family Caregiver Alliance
Date Added: 3/30/2020
Created especially for family caregivers, the Family Caregiver Alliance has dedicated a Coronavirus (COVID-19) webpage with resources and articles, ranging from information to staying at home, news, parks to visit virtually, and fitness videos.
Advance Care Planning
PREPARE for your Care: Making a Medical Plan During COVID-19
Date Added: 3/30/2020
Making a medical plan now can can help you, your family, friends, and your medical providers. In collaboration with our colleagues in the Division of Geriatrics at UCSF, the team at PREPARE for your Care have put together a COVID-19 Tip Sheet. This includes information about advance care planning, but also planning for medications, pets, bills, and a potential hospital stay. You will notice that many of the resources are specific to the San Francisco Bay Area and reference the PREPARE for Your Care website and advance directives. You can use this as a template for your preferred advance care planning tools and local services.
Access PREPARE for your Care COVID 19 Tip Sheet
Visit the PREPARE for your care website for more information
Seeking Care from your Doctor
UCSF Video Visits
Date Added: 3/30/2020
UCSF offers Video Visits, which allow you to see your provider without leaving home. You can use a smartphone, tablet or computer with a camera to see and hear your provider, all without the inconvenience of travel, parking or time away from work.

If you have scheduled a video visit, click a button below for instructions on getting started. If you haven't, be sure to discuss video visits with your provider to see if they are right for you.
Centers for Disease Control and Prevention
Are You at Higher Risk for Severe Illness?
Date Added: 3/20/2020
Older adults and people of any age who have serious underlying medical conditions may be at higher risk for more serious complications from COVID-19.
CDC Updates
Date Added: 3/20/2020
National Foundation for Infectious Diseases
Frequently Asked Questions About Novel Coronavirus (COVID-19)
Date Added: 3/20/2020
Coronaviruses are a large group of viruses that cause diseases in animals and humans. They often circulate among animals and can sometimes evolve and infect people. In humans, the viruses can cause mild respiratory infections, like the common cold, but can lead to serious illnesses, like pneumonia.
Household, Financial and Legal Issues
Housing
Eviction Protections:
Date Added: 3/26/2020
CA Statewide: Governor Newsom issued an executive order that allows cities and counties to halt evictions when a renter can demonstrate economic hardship caused by the pandemic. Many major cities in California have already moved to impose temporary moratoriums on evictions in recent days, including Los Angeles, San Francisco, and Oakland.
READ Governor newsom's EXECUTIVE ORDER
San Francisco City & County: San Francisco issued a 30-day halt to evictions if a tenant can't pay rent due to COVID-19. This is particularly relevant for individuals with high COVID-19 related medical expenses or households with hourly employees/gig economy workers, who will be most severely impacted economically by the "shelter in place" order.
Homeowners
Date Added: 3/26/2020
At the federal level, the administration has halted foreclosures for HUD-backed loans through the end of April.
Fraud
Vaccination and Coronavirus Scams
Date Added: 3/26/2020
Scammers are taking advantage of fears surrounding the Coronavirus. The Federal Trade Commission (FTC) has provided tips on how to stay safe and aware about these scams, and what the FTC is doing about this issue.
Please consider supporting one of these trustworthy organizations, dedicated to providing compassionate care and services to elders in the Bay area. Your support will help individuals and communities stay connected, plan ahead, and work to navigate the new challenges of COVID-19.
Community Volunteering Opportunities
COVID-19 Emergency Response Volunteer (CERV) Program
Date Added: 3/30/2020
The Department of Disability and Aging Services is partnering with an existing community resource, Shanti Project, to serve as the City's lead on volunteer management for helping older people (age 60+) and those with chronic conditions meet basic needs, such as picking up groceries and medicine, laundry, garbage, and pet care support. This is the COVID-19 Emergency Response Volunteer (CERV) Program.
Through this program, CERV Volunteers provide one time or occasional practical support to older and vulnerable adults who are strongly advised to limit outdoor exposure during the Coronavirus pandemic. Examples of support include grocery shopping; mail pickup; and delivery of medication, pet food, and other essentials.
Volunteers must be in good health and under the age of 60. All volunteers will receive training, be required to pass a background check, and must adhere to San Francisco Coronavirus protocols.
To learn more and how to sign up to become a volunteer, please visit the link below:
San Francisco/Mon Ami
Date Added: 4/2/2020
San Francisco has partnered with a local company, Mon Ami. Volunteers get matched with seniors who need to stay home. You can help them with groceries, errands, or just a friendly phone call.
Volunteers will be screened and have a background check. They must follow public health guidelines.
You can also request help for yourself or someone else.