Geriatrics, Palliative and Extended Care

Geriatrics and the Community Living Center provide a coordinated array of services to veterans in need of comprehensive interdisciplinary assessment and care for functional impairment, cognitive decline, end of life care and chronic disease management.
Our Goal
The goals of the Service Line are to prevent unnecessary institutionalization, promote independence, restore and maintain function, and maximize quality of life.
This is accomplished through a continuum of programs consisting of a Geriatrics clinic, a Geriatrics inpatient consultation service, a Palliative Care consultation service, VA -based nursing home care (including palliative care, rehabilitation, post-acute restorative care, respite care, and chronic disease management), home based primary care contracted services (including community nursing home care, adult day health care, respite care, skilled home care, hospice, and homemaker/home health aid services).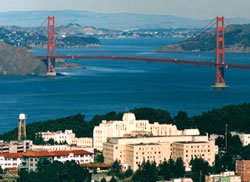 Contact Information
San Francisco Veterans Affairs Medical Center
4150 Clement Street, 181G
San Francisco, CA 94121
(415) 221-4274