San Francisco Veterans Administration Health Care (SFVAHC) System

The Geriatrics and Extended Care service line provides a coordinated array of services to veterans in need of comprehensive interdisciplinary assessment and care for functional impairment, cognitive decline, chronic disease management and end of life care. We do so in the home, clinic, hospital, VA Community Living Center, hospice and community nursing homes.
Our Goal
The goals of the Service Line are to prevent unnecessary institutionalization, promote independence, restore and maintain function, and maximize quality of life.
This is accomplished through a continuum of programs consisting of a Geriatrics clinic, a Geriatrics inpatient consultation service, a Palliative Care consultation service, VA -based nursing home care (including palliative care, rehabilitation, post-acute restorative care, respite care, and chronic disease management), home based primary care, and contracted services (including community nursing home care, adult day health care, respite care, skilled home care, hospice, and homemaker/home health aid services).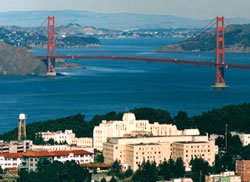 The San Francisco VA Health Care System (SFVAHCS) 

The Hospice and Palliative Care Service
Hospice and Palliative Care collectively represents a continuum of specialized medical care for people with serious illness that is focused on providing relief from the symptoms and stress of a serious illness. The goal is to improve quality of life for both the patient and the family.   The San Francisco VA Health Care System has developed Hospice and Palliative Care in three main settings: 1) the hospital via an inpatient palliative care consult team, 2) the outpatient setting via an outpatient palliative care clinic and community hospice referrals, and 3) a 10-bed hospice unit located within the Community Living Center (CLC). 
What Is Palliative Care
Palliative care aims to improve the quality of life and minimize suffering for individuals and their families facing a serious illness.  Palliative care can help people at any stage of a serious illness and may take place alongside medical treatment to cure the patient's disease.  All Veterans are entitled to palliative care.  Some issues addressed by Palliative care include:
Help with pain and other symptoms, such as shortness of breath, nausea, fatigue

Discussing preferences for future care

Psychological and spiritual support

Access to and coordination of community and VA services
The San Francisco VA Health Care System (SFVAHCS) 

Outpatient Palliative Care
T
he Palliative Care Clinic serves patients with serious illnesses such as cancer, heart failure, chronic lung disease, kidney disease, liver failure and neurologic disease. Our team includes a physician, nurse practitioner, and social worker.   Videoconferencing appointments are available to VA community based outpatient clinics (San Bruno, Santa Rosa, Clearlake, Ukiah, Eureka). Referrals are made through VA primary and specialty care providers.
The San Francisco VA Health Care System (SFVAHCS) 

Inpatient Palliative Care Consult Team
The inpatient consult service provides a team based palliative care to Veterans hospitalized at the San Francisco VA Medical Center or living in the Community Living Center (CLC).   Our team includes physicians, social workers, chaplains, and psychology.
The San Francisco VA Health Care System (SFVAHCS) 

Inpatient Hospice
Hospice is a team oriented approach to providing specialized care for people approaching the end of life.  It includes expert symptom management, emotional support, and spiritual care for patients and their families.   In most cases, care is provided in the Veteran's home. Hospice care is also provided within the VA's Community Living Center and other nursing homes.
The San Francisco VA Health Care System (SFVAHCS) Geriatrics Clinic
The San Francisco VA Geriatrics Clinic offers enhanced expertise for managing older Veterans both for primary care and geriatrics consultation. Our team of physicians, nurse practitioners, psychologists, nurses, social workers, pharmacists, and dieticians strive to optimize independence and quality of life for older Veterans in the face of their multiple cognitive, functional, psychosocial, and medical challenges. This team approach enhances the efforts and expertise of primary care providers and interdisciplinary team members who possess advanced training in assessing and addressing the function, cognitive and memory issues, and other syndromes associated with aging. In addition to the main San Francisco location, geriatrics consultation services are available at the San Bruno VA Community Based Outpatient Clinic (CBOC) and also through video to the Ukiah and Eureka VA CBOCs.
The San Francisco VA Health Care System (SFVAHCS) Home Based Primary Care
The SFVAHCS Home Based Primary Care (HBPC) is a national VA program designed to provide interprofessional, longitudinal, comprehensive team-based primary care in the home. HBPC specializes in caring for veterans with complex chronic disease and psycho-social co-morbidities with difficulty accessing the health care system. Teams of physicians, nurse practitioners, physical and/or occupational therapists, social workers, registered dieticians, pharmacists, mental health providers, and program support assistants based in San Francisco, Santa Rosa, Ukiah, and Eureka serve underserved veterans in rural, urban, and suburban settings. Teams collaborate with veterans, their caregivers, and associated VA and non-VA services to overcome the challenges of functional decline and chronic disease and maximize independence in the community through the final months and years of veterans' lives.
The San Francisco VA Health Care System (SFVAHCS) Community Living Center
The Community Living Center (CLC) of the SFVAHCS is the skilled nursing home for the veterans. We provide short term rehabilitation, skilled nursing care as well as long term dementia and long term continual care. Our team of interprofessional providers (physicians, nurses, social workers, restorative care nurse, dietitians, recreational therapists, geropsychologist, mental heal clinical nurse, physical therapists, occupational therapists and pharmacist) manage veterans with complex medical, social and mental health illness. Our goal is to meet each veteran's needs and provide patient centered care. Within the CLC, we have three specialty programs: Hospice care (please see more details under Inpatient Hospice); Social Focus Cohort which focuses team management of veterans with complicated psychosocial illnesses; and Respite program which offers a much-needed rest for 24/7 caregivers of veterans in the community. Veterans in the respite program stay at the CLC for 1-2 weeks which allows their caregiver's some time to rest or visit families or friends.
The San Francisco VA Health Care System (SFVAHCS) Veterans' Integrated Perioperative Clinic
The Veterans' Integrated Perioperative Clinic began in October of 2017.  It was created to provide a more coordinated, interdisciplinary preoperative evaluation (Hospital Medicine, Geriatrics, PT, OT, SW, and Pain Psychology) for frail or medically complex veterans undergoing surgery.  In addition to guidance on medical optimization, special emphasis is given to patient education & expectations, medication review and management, cognitive & functional status, and overall health preparation.  The clinic is particularly well-suited for patients with multiple co-morbidities, who are elderly or frail, who have chronic pain, mental health or substance use issues, and/or those with limited social supports.  At present, the clinic sees patients scheduled to undergo orthopedic surgeries only, but will soon expand to other surgical services.
Website
VA Geriatrics and Extended Care
Contact Information
San Francisco Veterans Affairs Medical Center
4150 Clement Street, 181G
San Francisco, CA 94121
(415) 221-4274