VA National Quality Scholars Program

VA National Quality Scholars Program (VAQS) is a 2-year fellowship that is available to physicians and pharmacists with residency training in addition to doctoral nurses and psychologists; this program does not require training in geriatrics.
Background
With eight sites around the country, the VAQS program is sponsored by the Department of Veterans Affairs to train researchers and leaders in health care improvement. Exceptional candidates with an interest in quality or implementation research, leadership or education are encouraged to apply.
Past fellows have gone on to faculty appointments at UCSF as well as working in the fields of public health and healthcare quality improvement.
For more information about the national program, visit the VA National Quality Scholars Program site.
Fellows in the VAQS program participate in the following activities as part of their training.
Educational Activities
Advanced Training in Clinical Research (ATCR)/TICR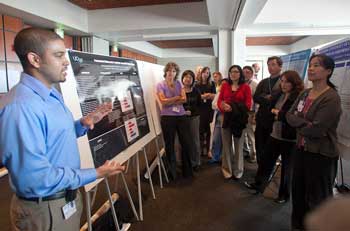 ATCR is an intensive, highly-regarded year-long course on research methods for fellows and junior faculty across UCSF pursuing careers in clinical, epidemiologic, and health services research. Students also have an option to extend their studies for a second year and obtain a master's degree in clinical research. Coursework includes classes on epidemiologic methods, introductory statistical analysis, advanced statistical methods, statistical computing, clinical trials, database management systems, systematic reviews and meta-analysis, publishing and presenting clinical research, and an ongoing seminar. Additional elective courses are available in decision and cost-effectiveness analysis, medical informatics, clinical research with diverse communities, and outcomes research. For more information, visit the ATCR site.
This weekly conference provides a venue for all faculty and fellows to present ongoing academic work to the entire division. Both educators and researchers are encouraged to present their projects. Research manuscripts and grants, quality improvement projects and educational evaluations are all common topics at our WIPs.
TWIV (Two-Way Interactive Video) Conferences
This weekly teleconference links the eight sites of the Quality Scholars Program for an ongoing seminar in quality improvement and research issues.
National Conferences
Fellows in the VAQS Program also attend the Quality Scholars Summer Institute in August each year, an excellent opportunity to meet fellows and faculty from all sites and share ideas and experiences.
Fellowship Leadership
Additional Recent Faculty Mentors for VAQS Fellows
Which Research Fellowship Track is Right for Me, T32 or VAQS?
A variety of research tracks and funding mechanisms are available, but the core experience of research fellows in each of these pathways is largely the same. Applicants interested in research are encouraged to discuss these options with the research fellowship director Alex Smith to determine which track is best suited for that candidate's needs. Similarly, candidates with an interest in health care improvement leadership are encouraged to contact the Quality Scholars Directors Drs. Victoria Tang and Sei Lee. Although the research focus of the Division is on clinical epidemiology and health services research, the Division has also nurtured successful fellows in the basic sciences.
UCSF T32 Aging Research Fellowship Program
VA National Quality Scholars Program
Contact Information
For information about applying to the program at the San Francisco VA Medical Center, please contact:
Victoria Tang, MD, MAS
Director, VA Quality Scholars Program