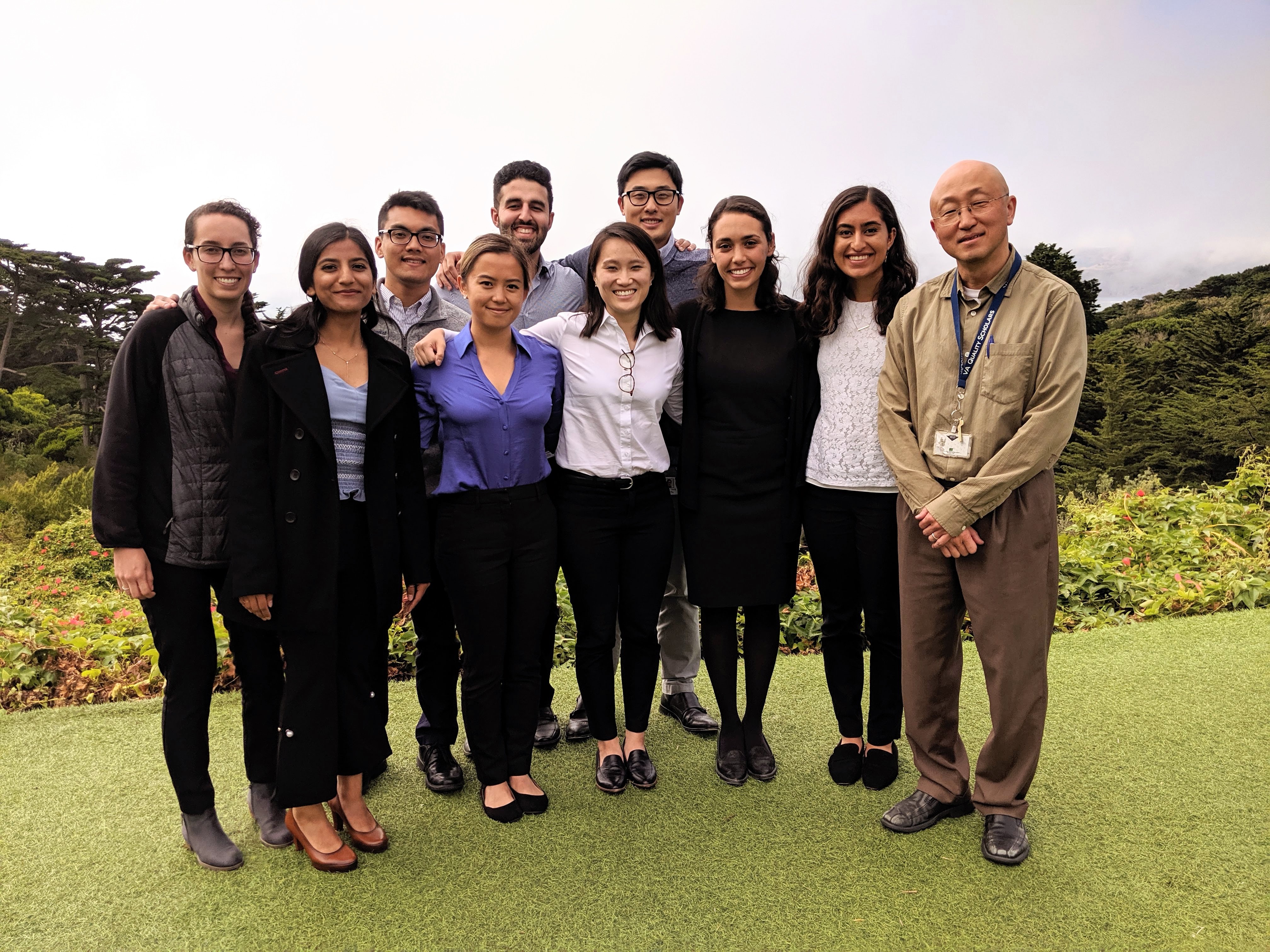 The MSTAR program at UCSF is a summer research practicum in San Francisco, CA, designed to immerse first year medical students in aging research.
Who is it for?
The MSTAR program is designed to provide any allopathic or osteopathic medical student in good standing, who will have successfully completed one year of medical school at a U.S. institution, with a practical, hands-on experience working on a research project under the guidance of an experienced aging researcher as a mentor.  Students will also receive a brief introduction to Geriatric medicine through a didactic series and clinical experiences.  The ideal MSTAR applicant is a first year medical student who is interested in aging research and has found an aging research mentor at UCSF. 
Applicants must be citizens or non-citizen nationals of the United States, or must have been lawfully admitted for permanent residence (i.e., in possession of a currently valid Alien Registration Receipt Card I-551, or some other legal verification of such status.) Individuals on temporary or student visas are not eligible.  Due to NIA restrictions, individuals holding PhD, MD, DVM, or equivalent doctoral degrees in the health sciences are not eligible to apply to do the MSTAR Program.
Research Mentorship
Students will work with one research mentor during the program.  The student and the researcher are responsible for determining a project that is appropriate for the student's level of expertise and feasible during the student's time in the program.  Most students meet with their mentor (or their mentor's designee) once each week.  Students should expect to spend approximately 75% of their effort on research activities. Students who already work with a mentor at UCSF on aging related research may continue working with their mentor (for UCSF students the mentor may also fill the role of home institution sponsor).
MSTAR-CURE Pilot Program
In 2021 the UCSF MSTAR program is piloting a partnership with the UCSF Center for Science Education and Outreach to pair MSTAR medical students with underrepresented minority high school students who are taking part in the CURE summer research internship program. Don Woodson, MEd, Director of the CURE program, will help match students to appropriate MSTAR mentors and projects. He will also help mentors consider appropriate research roles for the CURE students. The CURES program also provides all UCSF set up and training (IDs, email, etc.), a student stipend, mentoring, and weekly didactics.  The experience is intended to help MSTAR students develop research mentorship skills under faculty guidance, as well as to help address educational disparities and promote STEM and research careers among CURE students. MSTAR students and mentors are encouraged to participate in the MSTAR-CURE pilot in 2021, but participation is optional. Prospective students should discuss the MSTAR-CURE program with their prospective mentor during the application process.
https://cseo.ucsf.edu/eaop/summer-opportunities
Research Seminar
Students will attend the weekly UCSF Division of Geriatrics Works in Progress seminar.  This is an opportunity to see how researchers think about refining and improving a wide variety of research projects, as well as getting feedback to improve their own research projects. 
Guest Speaker Series
UCSF Faculty volunteer to give 30 minute didactics on topics in geriatrics and aging and participate in 30 minute meet-the-professor sessions with the students.  These lectures allow students to learn about current topics in aging and geriatrics research, and learn about the careers of current researchers.  In the past, students have spent 15% of their effort on didactics and the research seminar.
Clinical Experiences
Students will participate in six ½ day clinical observations experiences at the San Francisco Veteran Affairs Medical Center, or approximately 10% of their effort.  These rotations may include services such as the Outpatient Geriatrics clinics, the inpatient Geriatric Consult Service, the Home Based Primary Care Service, the Acute Care for Elders (ACE) Unit, the VA Nursing Home and others. Typically, 1-2 students will be assigned to follow a clinician performing their usual care duties. 
Presentations and Publication Opportunities
All students will prepare presentations about their summer research for a symposium attended by UCSF faculty.  Mentors and other researchers will provide feedback and support to help students prepare for these presentations. The presentation format is designed to prepare students to submit abstracts to the American Geriatrics Society annual meeting in May 2021.  Submission of abstracts is highly encouraged.  Some students in past cohorts have been co-authors on papers later published.  It is up to the student and the research mentor to determine if this is an appropriate and realistic goal of the summer research.
Logistical Considerations
The MSTAR program is a full-time research program. Students are required to participate in the MSTAR program for a minimum of 8 weeks.  The start and end dates of the program are flexible to account for variation in medical school schedules, but all students must be present for 7 weeks from 6/14/21 – 7/31/21.  Most program activities are at the San Francisco VA Medical Center.  The SFVAMC is easily accessible by public transportation and parking can be found in surrounding streets. The MSTAR program provides a stipend.  In 2020, the stipend was $4136, although this may change because of cost of living adjustments in 2021. You will receive the 1st half of your stipend during the first few weeks of the program and the 2nd half of your stipend during the middle of the MSTAR program (we cannot provide a specific date); please plan your finances accordingly. The UCSF MSTAR program does not provide housing or assistance with finding housing for the summer.
For 2021: COVID-19 Pandemic Considerations
The COVID-19 pandemic has resulted in many changes to how medical research and clinical practice are carried out, which will affect the 2021 MSTAR program. MSTAR students must adhere to all institutional pandemic guidance in place at the time of the program. Clinical shadowing may be virtual only. Classes, lectures, and works-in-progress seminars may be virtual only. Off-site or at-home work may be encouraged or required unless a researcher's presence on campus is scientifically necessary. Mentor meetings may be virtual. Working on campus may involve daily health attestations, mask wearing, and other requirements. Evidence of vaccination may be required for on campus work. Many of these measures were in place during the summer 2020 MSTAR program. The specific measures for summer 2021 will be determined by UCSF and San Francisco VA policies at the time of the program, and may change dynamically with changes in the pandemic. Regardless of the pandemic, we are all committed to an exciting, educational, and successful MSTAR program!
Application Process
We will start accepting applications on: February 1, 2021
Application Deadline: March 19, 2021
Finding a Mentor -

We ask that applicants establish a relationship with mentors before submitting an application.  Students who already work with a mentor at UCSF on aging related research may continue working with their mentor.  MSTAR students may work with any UCSF faculty who do aging related research, but we suggest starting with these faculty who are familiar with the MSTAR program: See MSTAR Mentor List below and check 

MENTOR AVAILABILITY

 (once list is finalized and live) prior to contacting the mentors.  If a mentor is not listed who you'd like to work with, please reach out to 

Elaine Chow

 or 

Sei Lee

. 

UCLA Application -

Since we are a satellite program of the UCLA MSTAR training site, please email the 

UCLA MSTAR program

 to obtain the application form.

Notifications of Acceptance -

Acceptances will be announced on April 2, 2021.
Contact Information