Geriatric Medicine Fellowship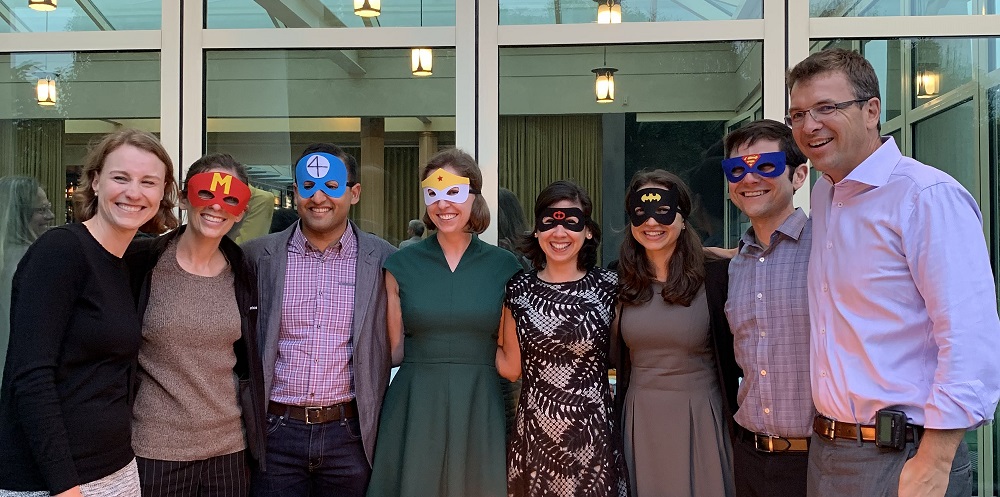 Our Mission
Our mission is to train geriatric medicine fellows in delivering and developing innovations in person-centered medical care — care that helps older adults safely navigate the health care system, maintain dignity and independence, and experience improved quality of life and well-being.
Our AIMS
To train clinically excellent, curious and compassionate specialists in geriatric medicine.

To produce future leaders who will innovate in education, systems improvement and research towards a future of person-centered, high-quality health care for all older adults.

To provide geriatric medicine fellows with the tools to maximize resilience and wellness throughout their career. 

To enhance diversity, equity, and inclusion within the educational and clinical environment.
Our Experience
The UCSF Clinical Fellowship in Geriatric Medicine is a 12-month experience designed for physicians who have successfully completed an ACGME-accredited residency in internal medicine or family practice. We seek individuals with exceptional talent, great interpersonal skills, and a strong drive to be at the forefront of advances in clinical medicine and research.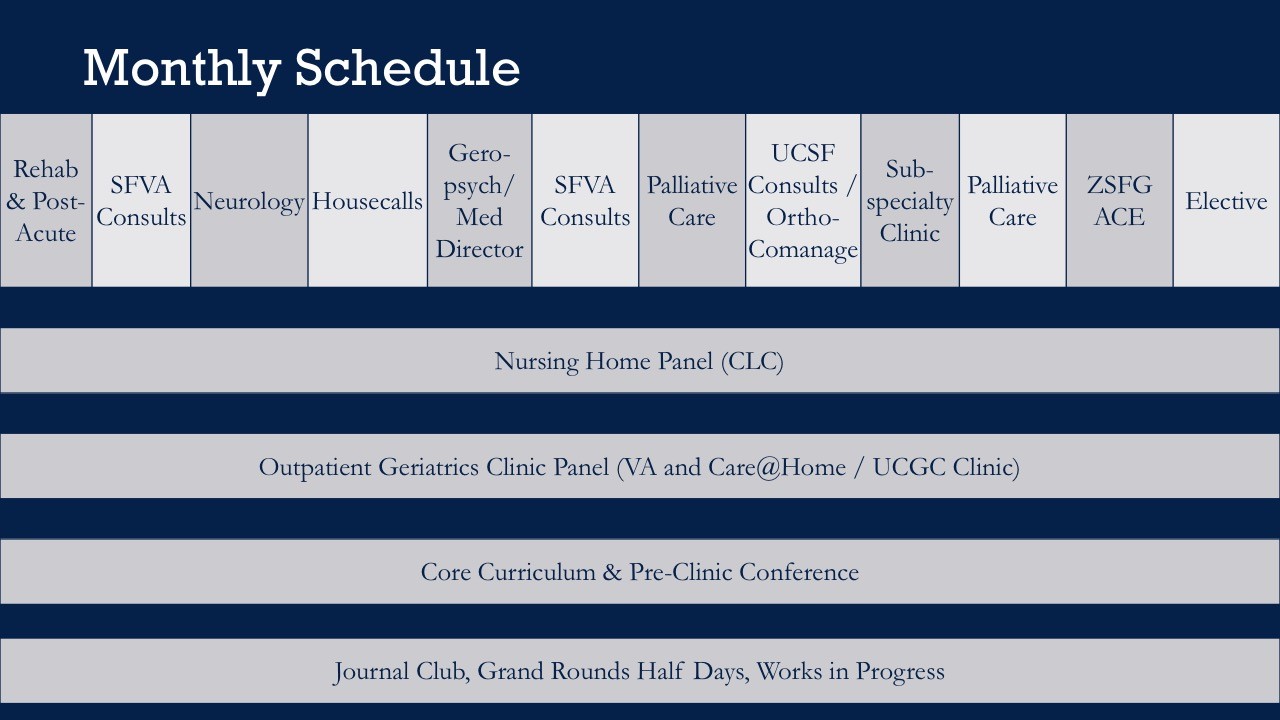 Curriculum
The clinical opportunities allow geriatric fellows to explore both the depth and breadth of geriatric medicine through longitudinal primary care experiences and block rotations in a variety of clinical settings. The UCSF Geriatric Medicine fellowship utilizes a wide variety of academic and community based programs for clinical training. San Francisco is home to an ethnically, culturally, and economically diverse population of elders, and boasts many innovative aging programs, making it an ideal location for clinical geriatric training.
Participating Institutions
UCSF Medical Center and Mount Zion Medical Centers
San Francisco VA Medical Center (SFVAMC)
Zuckerberg San Francisco General Hospital (ZSFG)
Jewish Home of San Francisco
On Lok Senior Health Services
Fellowship Rotations
Month Long Rotations (and locations):
UCSF Geriatrics Consult Service and Ortho Co-Management
SFVAMC Consult Service
ZSFG Acute Care for the Elders (ACE) Unit
Hospice and Palliative Medicine (SFVAMC)
Medical Direction (SFVAMC, On Lok)
Geropsychiatry (SFVAMC)
Housecalls (UCSF and Mount Zion Medical Centers)
Neurology (UCSF and SFVAMC)
Rehabilition and Post-Acute Care (UCSF and Jewish Home)
Subspecialty Clinics (UCSF and SFVAMC)
Electives (various locations)
Longitudinal Experiences:
Geriatric Outpatient Clinics (UCSF Housecalls, UCGC Clinic, and SFVAMC)
Community Living Center (SFVAMC):  Offering long-term, post-acute, and hospice care.       
Conferences
Direct clinical teaching is supplemented by weekly core curriculum, palliative care and ambulatory lecture series, journal club, a works in progress conference, and geriatrics grand rounds. The curriculum includes core material in geriatrics and gerontology, teaching and educational scholarship, and critical review of the medical literature.
Research Training
Fellows are encouraged to develop skills in multiple areas and are expected to produce a scholarly project in collaboration with faculty. Many clinical fellows have elected to pursue an additional two or more years of research training, as we offer ample funding opportunities to allow several years of training. Fellows are also given the opportunity to familiarize themselves with ongoing research projects, choose a research mentor, and start a research project or collaborate in ongoing projects. 
VA National Quality Scholars Program
Contact Information
Application Process