Geriatric Medicine Fellowship

Menu
Why UCSF?
Our mission is to train geriatric medicine fellows in delivering and developing innovations in person-centered medical care — care that helps older adults safely navigate the health care system, maintain dignity and independence, and experience improved quality of life and well-being.
To train clinically excellent, curious and compassionate specialists in geriatric medicine.

To produce future leaders who will innovate in education, systems improvement and research towards a future of person-centered, high-quality health care for all older adults.

To provide geriatric medicine fellows with the tools to maximize resilience and wellness throughout their career. 

To enhance diversity, equity, and inclusion within the educational and clinical environment.
The UCSF Clinical Fellowship in Geriatric Medicine is a 12-month experience designed for physicians who have successfully completed an ACGME-accredited residency in internal medicine or family medicine. We seek individuals with exceptional talent, great interpersonal skills, and a strong drive to be at the forefront of advances in clinical medicine and research. 
Applicants must have received a medical degree from a medical school accredited by the LCME, AOA, or one that is recognized by the California Medical Board (https://www.mbc.ca.gov/Applicants/Schools_Recognized/  ).  All applicants must have passed USMLE steps 1 and 2 or, for D.O. degree, COMLEX level 1 and 2.
San Francisco is home to an ethnically, culturally, and economically diverse population of elders, and boasts many innovative aging programs, making it an ideal location for clinical geriatric training. 
The Geriatric Medicine Fellowship prepares fellows to be leaders in geriatric medicine through a wide variety of clinical and didactic experiences. The clinical fellowship utilizes a wide variety of academic and community-based programs for clinical training. The clinical opportunities allow geriatric fellows to explore both the depth and breadth of geriatric medicine through longitudinal primary care experiences and block rotations in a variety of clinical settings. A longitudinal classroom-based curriculum taught by a team of expert educators, along with division-wide educational sessions, support the clinical training.
Below is an example of a monthly schedule that shows the block rotations as well as longitudinal experiences.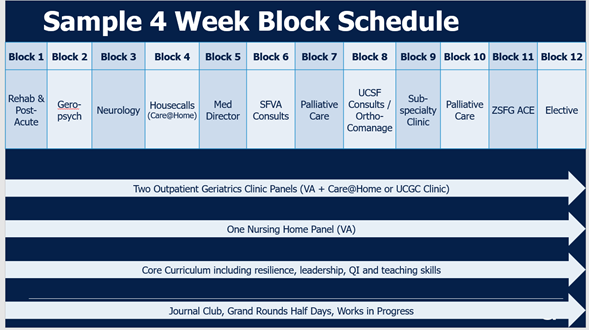 Longitudinal Experiences:
Geriatric Outpatient Clinics (year-long)
Fellows spend two half-days a week building their expertise as outpatient geriatric medicine providers.  These clinic experiences include one half-day clinic at the San Francisco VA Medical Center and one half-day either at UCSF Care at Home or the UCSF Center for Geriatric Care (UCGC).
Nursing Home Experience (year-long)
Fellows care for a panel of 6 long term care patients in a skilled nursing home for veterans, the Community Living Center (CLC) at the San Francisco VA.  Fellows work with a team of interprofessional providers (physicians, nurses, social workers, restorative care nurse, dietitians, recreational therapists, geropsychologist, mental heal clinical nurse, physical therapists, occupational therapists and pharmacist) to manage veterans with complex medical, social and mental health illness.       
4 Week Block Rotations:
UCSF Geri Consult and Ortho Co-management (1 block)
Fellows work with and learn from an interdisciplinary team focused on two areas of geriatric medicine.  First, fellows co-manage the care of high-risk orthopedic patients from 3 orthopedic teams. Second, fellows provide geriatric consultations as requested by other services in the hospital. Often consultation requests come from surgical or medical teams requesting assistance with delirium, behavioral problems in dementia, falls, polypharmacy and other geriatric syndrome management.
Housecalls (1 block)
Fellows learn to provide appropriate and effective routine and urgent care in the home to frail homebound older adults throughout San Francisco through the UCSF Care at Home Program.  Patients in this program are of every ethnicity and socioeconomic level. Fellows learn and work with a team of physicians and nurse practitioners who are trained in care of older adults, and with the many community services which enable our patients to live safely at home.
Inpatient Palliative Care (2 blocks)
Fellows rotate on the San Francisco VA inpatient palliative care team. On this rotation fellows gain skills in 1) pain and symptom management, 2) goals of care discussions and advanced care planning, 3) managing challenging family dynamics, 4) determining hospice eligibility and providing hospice education, 5) managing psychological and spiritual issues in those with serious illness.
Geropsych (1 block)
Fellows learn the management approach to common psychiatric illness seen among older adults. Fellows encounter patients with a variety of mental health conditions including affective disorders, PTSD, substance use disorders, behavioral and psychological symptoms of dementia, etc. in the home care setting, office-based setting, and inpatient setting.
Medical Directorship (1 block)
Fellows learn about the administrative and clinical leadership responsibilities of the medical director in a variety of healthcare settings, including residential care facilities for the elderly (RCFE), Program of All-Inclusive Care for the Elderly (PACE), and nursing home. Fellows will also learn and practice approaches to quality improvement and patient safety.
Neurology (1 block)
Fellows learn the management approach to patients with cognitive and movement disorders.  Fellows rotate at the UCSF Memory and Aging Clinic, SFVA Movement disorders clinic and SFVA Memory Disorders clinic. Fellows will take care of patients with cognitive impairment, dementia, including Alzheimer's Diseases, Dementia with Lewy bodies, vascular dementia (VA clinic) as well as rarer forms of dementia (UCSF Medical Center). At the VA movement disorders clinic fellows see patients with a variety of movement disorders including tremor and Parkinson's disease. 
SFVA Geriatrics and Acute Care for Elders (ACE) Consults (1 block)
Fellows learn to be an expert consultant on the wards and on a dedicated ACE Unit that predominantly serves medical patients. These patients have a variety of clinical conditions including but not limited to functional decline, delirium, and polypharmacy along with a host of common medical conditions for which elderly patients are often hospitalized such as heart failure and pneumonia, etc.
Zuckerberg San Francisco General Hospital (ZSFG) ACE Unit (1 block)
Fellows work with inpatients on a variety of clinical services including internal medicine and surgery. These patients have a variety of clinical conditions including but not limited to functional decline, delirium, and polypharmacy along with a host of common medical conditions for which elderly patients are often hospitalized such as heart failure, pneumonia, hip fracture, etc.
Rehabilitation (1 block)
Fellows learn principles of post-acute and rehabilitative care.  Sites include UCSF Mt. Zion Rehab Clinic and San Francisco Campus for Jewish Living.  Fellows interact with and care for patients on an active short stay skilled nursing unit. Patients are admitted to the Short-Term and Rehabilitation Services (STARS) unit for post-acute care including rehabilitation and/or IV therapies. Fellows perform histories and physicals on new patients, make routine follow-up visits, provide urgent care and work to transition patients out of the unit to home or other facilities.
Subspecialty Clinics (1 block)
Fellows learn the approach to caring for older adults with common metabolic diseases, particularly osteoporosis, urinary incontinence and for older adults considering high risk surgery. Fellows will be exposed to patients with metabolic bone disease along with other endocrine disorders, to patients in the continence center with urinary incontinence and to older patients considering high risk surgery. 
Elective (1 block)
Fellows can use elective time to more deeply explore a particular clinical area or work on a scholarly project.   
Direct clinical teaching is supplemented by weekly core curriculum, palliative care and ambulatory lecture series, journal club, a works in progress conference, and geriatrics grand rounds. The curriculum includes core material in geriatrics and gerontology, teaching and educational scholarship, and critical review of the medical literature.
In addition, fellows have "deeper dive" sessions that include the following:
Vital talk Communication Series:

In a series of high-fidelity simulations shared with the UCSF Hospice and Palliative Medicine fellows, fellows have a safe space to practice fundamental communication skills facilitated by VitalTalk trained faculty.

Career Fest

: A career planning half-day attended by clinical, research, VAQS and palliative care fellows to get fellows ready for their future career in geriatrics.

Quality Improvement Curriculum

: All clinical fellows participate in quality improvement workshops that focus on the key concepts of patient safety and quality improvement methodology. All fellows will apply their skills in the selected clinical microsystems.  

GME Pathways:

An optional program, GME Pathways is a multi-disciplinary, inter-professional program open to UCSF learners at all training levels. 

AGS Meeting

: The premier educational event in geriatrics, providing the latest information on clinical care, research on aging, and innovative models of care delivery.  Fellows receive $1500 stipend to attend the meeting.
Fellows are encouraged to develop skills in multiple areas and are expected to produce a scholarly project in collaboration with faculty. Many clinical fellows have elected to pursue an additional two or more years of research training, as we offer ample funding opportunities to allow several years of training. Fellows are also given the opportunity to familiarize themselves with ongoing research projects, choose a research mentor, and start a research project or collaborate in ongoing projects. 
VA National Quality Scholars Program
The Geriatric Medicine fellowship at UCSF is committed to training and supporting physicians from all backgrounds, including traditionally underrepresented groups, to enhance the diversity of our residency training programs and to meet the needs of the multi-ethnic populations we serve.
Diversity in our fellowship is defined broadly and includes race, culture, religion, mental or physical abilities, age, gender, sexual orientation and other characteristics.
COVID19 effects on the 2022 Interview season:
The UCSF Geriatric Medicine fellowship recognizes how COVID-19 has affected our applicants, including effects on subspecialty rotations, changes in work schedules, and effects on completing scholarly projects. In response to these challenges, our fellowship will use a holistic review of your application to understand your unique potential as a candidate and the overall trajectory of your medical training.
We are also conducting all interviews for the 2022 season using remote teleconferencing tools.