UCSF Care at Home Program (previously named Housecalls Program) was established in 1999 with a philanthropic gift from the Richard and Maria Ury Endowment in honor of Dr. Harry Weinstein to teach medical students about home care to frail adults.
About Us
We provide home-based primary care and longitudinal palliative care to homebound adults living in San Francisco. Because UCSF is a teaching institution, we also teach students, residents, and fellows.
Our patients are of every ethnicity and of all socioeconomic levels. Our team of physicians and nurse practitioners are trained in care of older adults, including palliative medicine and hospice care. Together with our Practice Coordinators, we work closely with the many community services which enable our patients to live safely at home. We serve all neighborhoods in San Francisco. The average age of our patients is 87 years. Referrals come from UCSF and community physicians, home care agencies, social workers, adult protective services, and directly from families.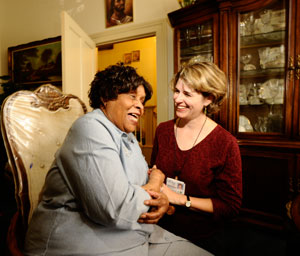 UCSF Care at Home accepts Medicare, Medi-Cal and supplemental insurance coverage, but relies on philanthropic support from foundations and individuals to fund its operations. UCSF Care at Home has 501(c)(3) nonprofit status through the UCSF Foundation and tax-deductible donations are appreciated. 
Who We Are
We are a team of physicians, nurse practitioners, and social workers with expertise in geriatrics and palliative medicine who make home visits, support patients and families with complex care needs, focus on understanding their goals and preferences for medical care, specialize in symptom management, and provide individualized care.

Additional team members include Registered Nurses, and Patient Care Coordinators.

Our team is specially trained to manage common illnesses in aging such as dementia (Alzheimer's, vascular and others); frailty, falls, arthritis and heart problems.

Our services can help you and your loved ones:

Understand your illness and what to expect in the future

Serve as your primary care provider and coordinate your care

Create a clear and effective plan for managing symptoms at home

Ensure a safe and comfortable transition from hospital to home

Make important medical decisions based on what's important to you

Connect to medical and social support resources that support you and your loved ones
Honors and Awards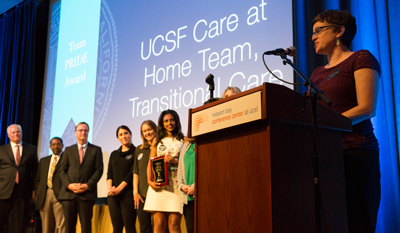 The UCSF Care at Home Team received the 2015 UCSF Medical Center Team PRIDE award. This highest honor is awarded in recognition of their continuous demonstration of our core values: Professionalism, respect, Integrity, Diversity, and Excellence.
UCSF Division of Palliative Medicine's Bridges Program
UCSF Division of Palliative Medicine's Bridges program aims to help our UCSF patients living with serious illness receive the best care possible. Bridges offers home-visits by physicians, nurse practitioners, social workers, and chaplains who specialize in symptom management, communication, and safe transitions from hospital to home. Please visit the Division of Palliative Medicine page for more information.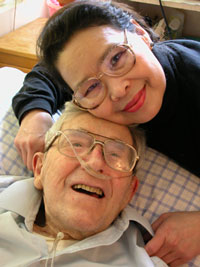 Website
Donation
Please click "Direct your gift to a specific area", then "UCSF Housecalls Program".
Contact Information
To find out more about the program, or refer a patient, please call the program at (415) 514-3577.