Volunteers for the Acute Care for the Elderly (ACE) Program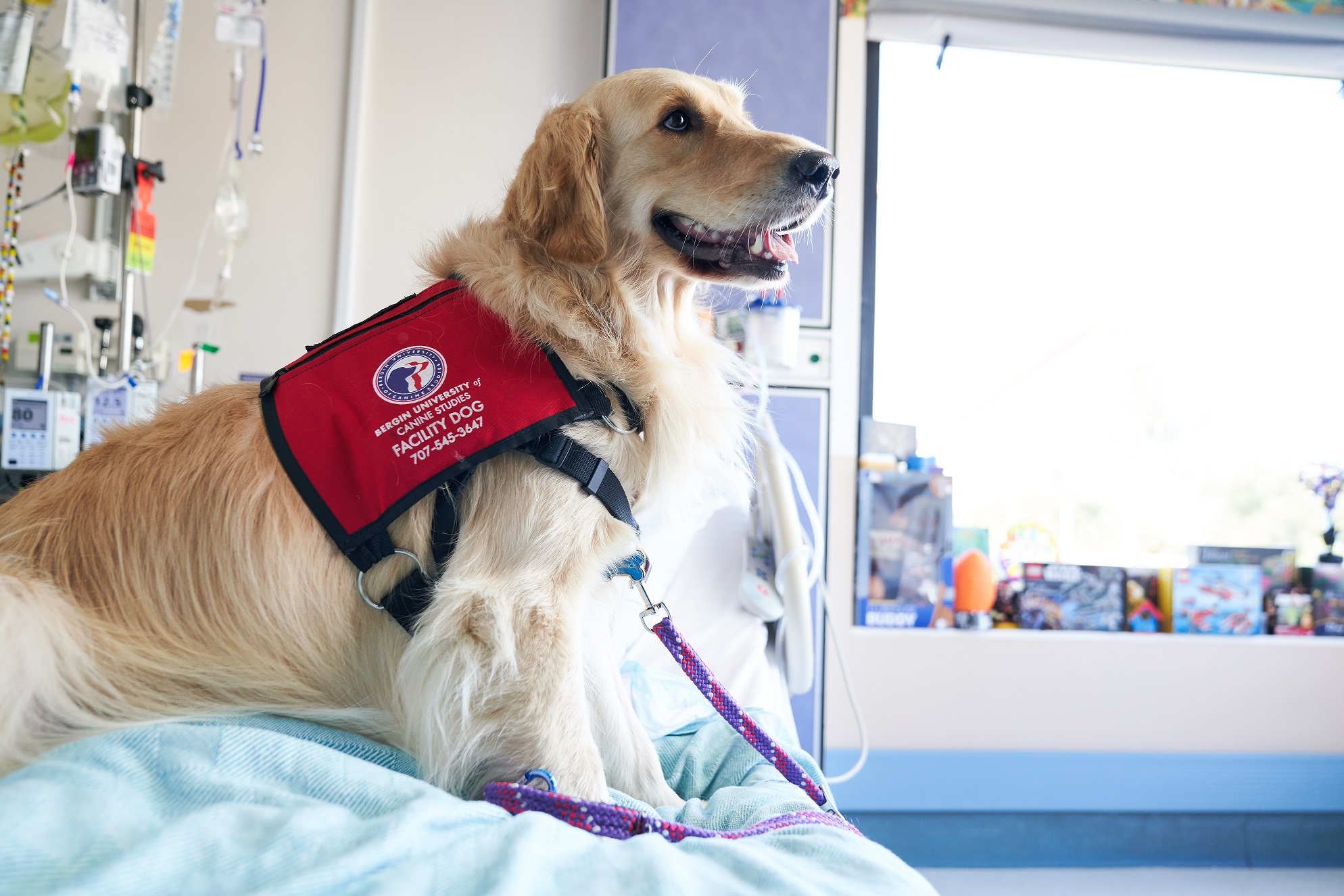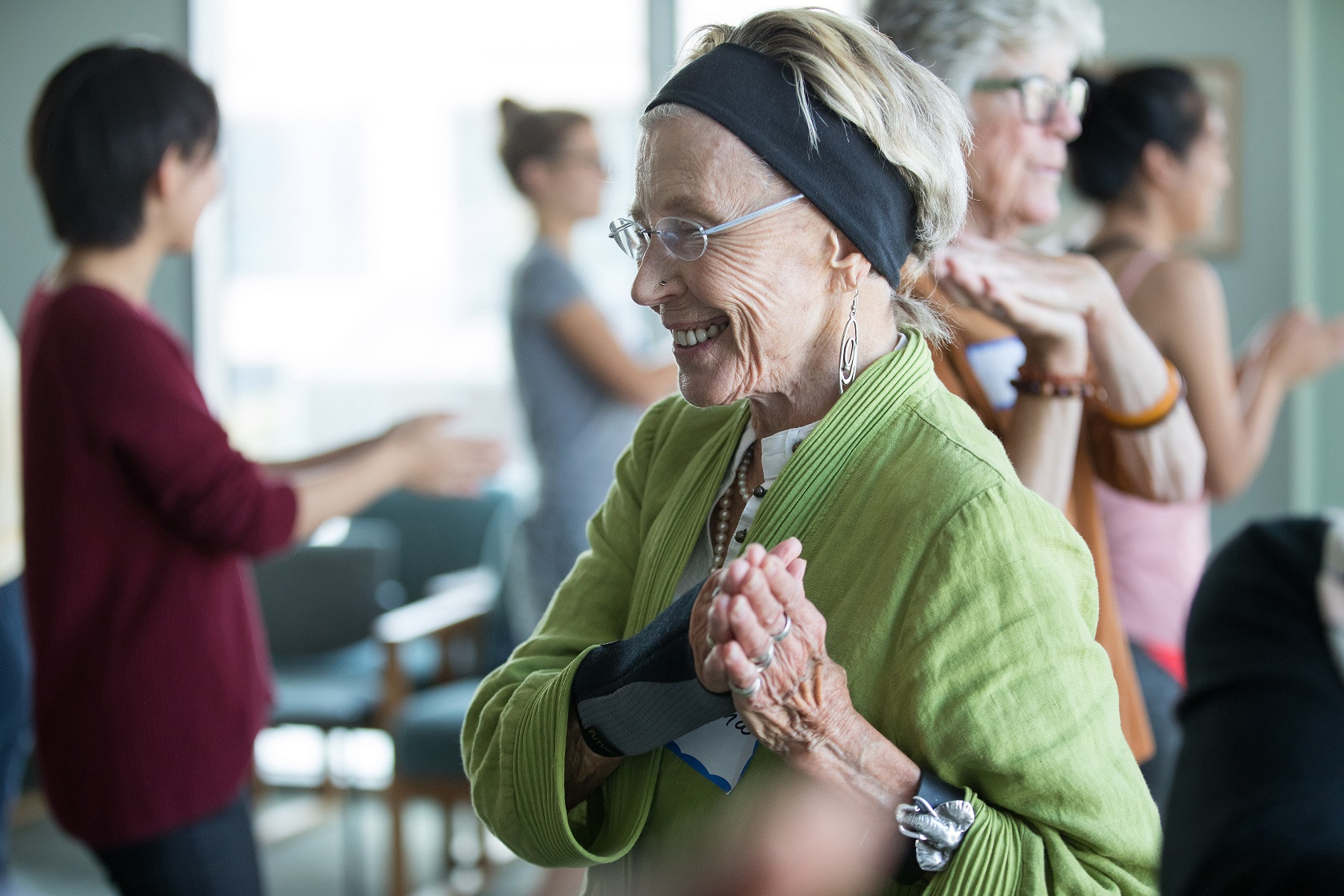 About Us
The volunteers at the Acute Care for the Elderly (ACE) program play a critical role for our patients- companionship. Our volunteers help our patients remain engaged in their care, prevent boredom and isolation, and assist with good sleep and recovery.  The ACE unit recruits unique individuals (students, retirees, and everyone in between) who empathize with the challenges of being hospitalized, and have interest in helping older adults. The ACE Volunteers receive special training to learn how to engage older patients through games, art, reading material, and meaningful conversations. The volunteers meet patients individually in their rooms or as group in the ACE Activity Room. The ACE activity room is reserved for social activities, such as group lunches, arts and crafts, and ACErcise (group exercise). Our volunteers strive to make our hospital unit as home-like as possible, and excel at bringing compassion to the patients that need it most..
Volunteer Opportunities
We are currently recruiting new volunteers for the ACE unit! Volunteers are assigned a regular 3 hour shift one day per week. Every shift the volunteers personally visit patients in their rooms, provide supplies the patient may need (toiletries, entertainment, reading material, etc.) and have friendly conversations with the patients and family members. In addition, volunteers also assist and participate in group activities, which take place in the ACE Room.  Our group activities are dynamic, fun, and differ every day. In return for their services, ACE volunteers are treated to quarterly social gatherings and educational opportunities. The ACE volunteers are fantastic because they bring enthusiasm and inspire hope amongst a vulnerable patient population. If you share the same qualities, we encourage you to join us!
Register to become an ACE Volunteer through the volunteer registration site. Please indicate your interest to become an ACE Unit Volunteer on your application.
Community organizations are also welcome to come and volunteer their time as a group to host presentations or activities. We are open to comedy presentations, musical performances, magic shows, and much more. Please contact Dianne Montances at [email protected] for more information.
Activities Schedule
ACE Activities take place Monday through Friday, and need at least two participants to take place. Volunteers are invited to assist, participate, and help supervise the groups.  
ACErcise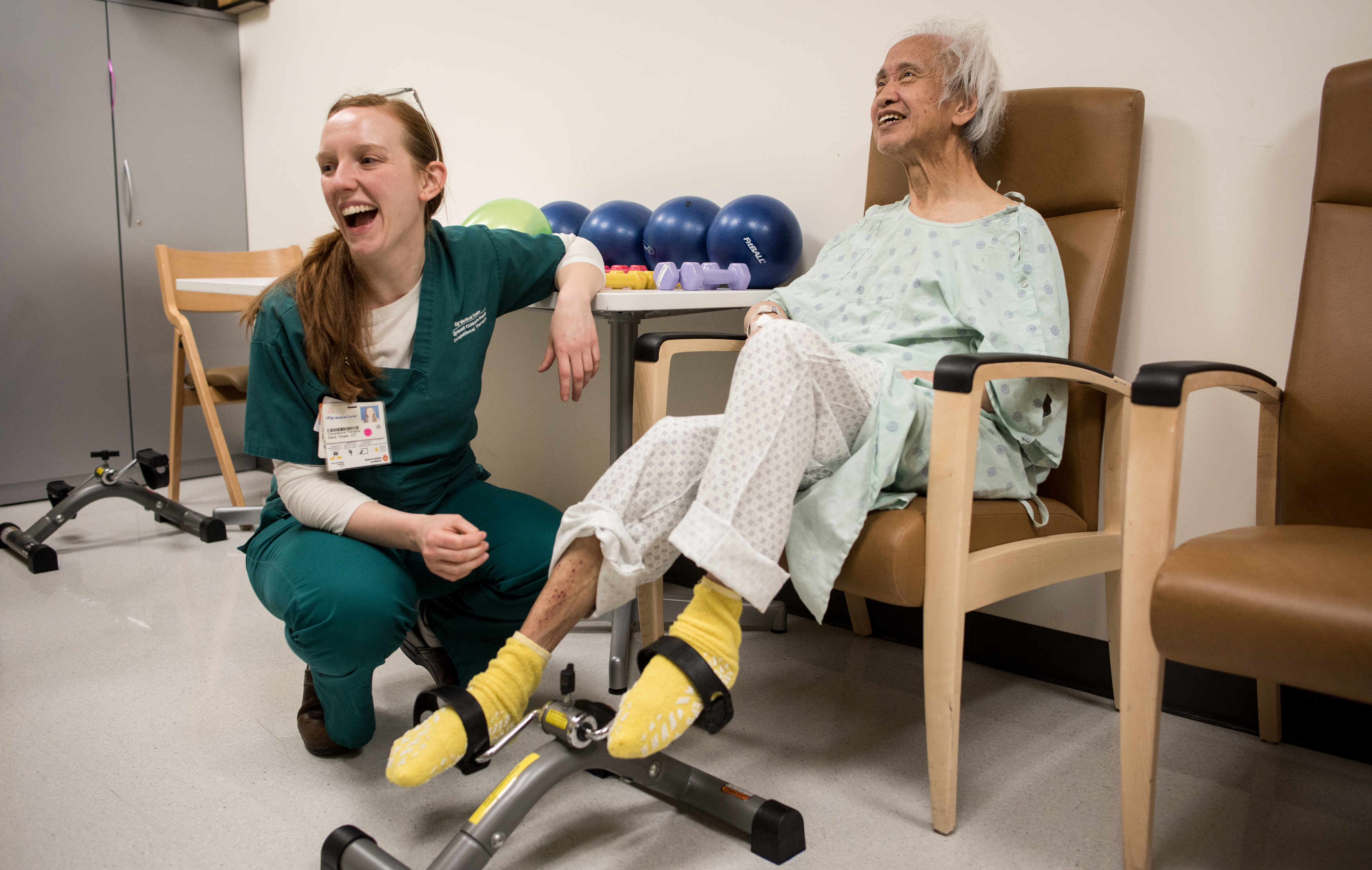 ACErcise is a light aerobic exercise group led by our physical and occupational therapists. Patients of all abilities are welcome to join! Groups consist of light exercises with music, dumbbells, balloons, balls, bike trainers, and resistance bands. The volunteers will assist the rehab team and be an enthusiastic participant for the full duration of the class.
Arts and Crafts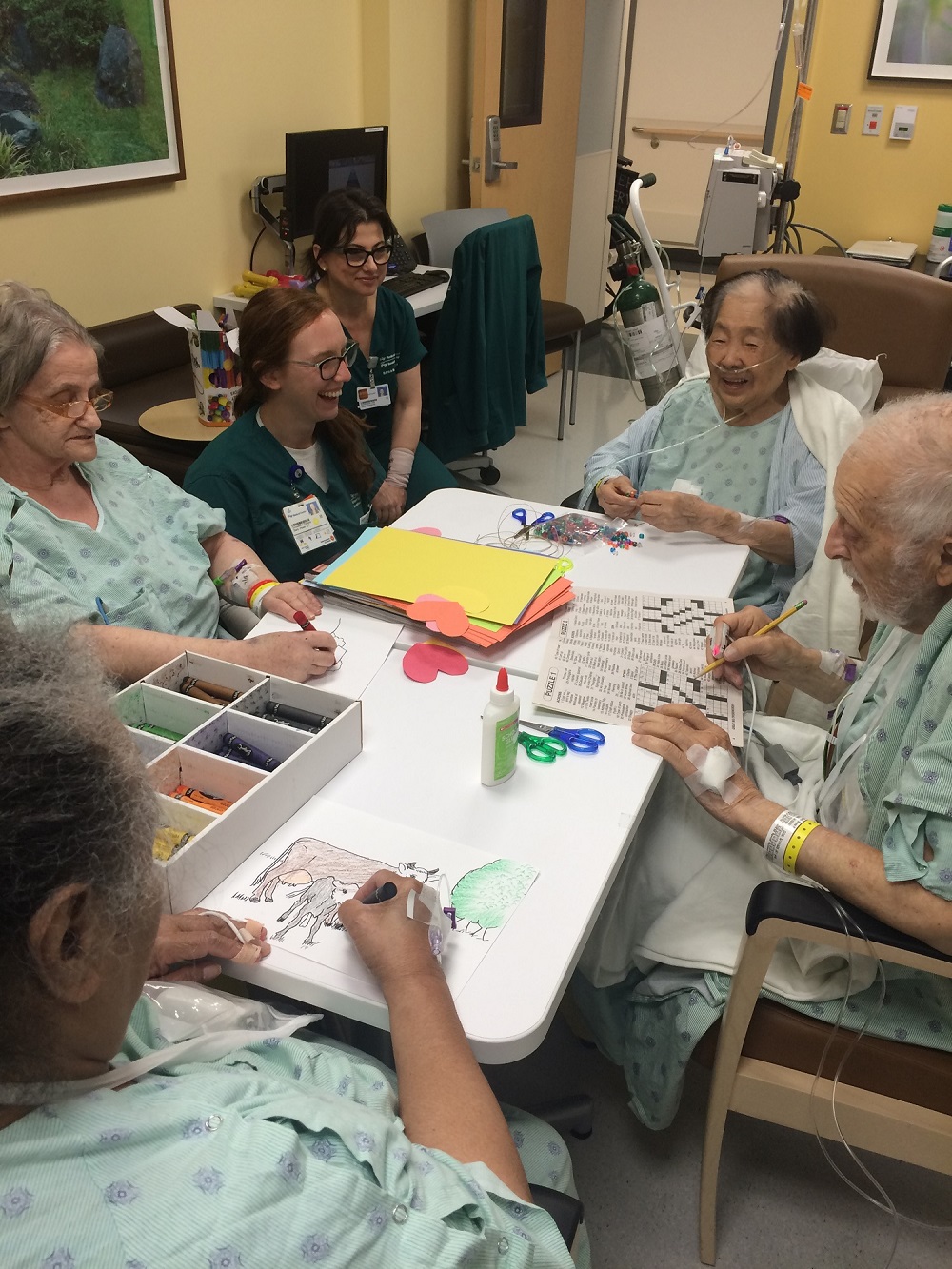 The Arts and Crafts group is designed to inspire artistic expression and challenge dexterity. Participants will be given a prompt and will receive guidance and assistance with the media provided. Our volunteers help with room set up, assist participants with dexterity limitations, provide art ideas, room clean up, and of course actively create their own artwork.
Group Lunch
Monday through Friday from 12:00 - 1:00 pm
No one likes to each lunch alone. Our group lunches take place in the ACE activity room with the assistance of the RNs and PCAs. Participants have the opportunity to meet their neighbors, socialize in a group setting, and get out of their bedrooms. Volunteers will not be able to help feed patients, but are welcomed to come for conversation and companionship.
Music Therapy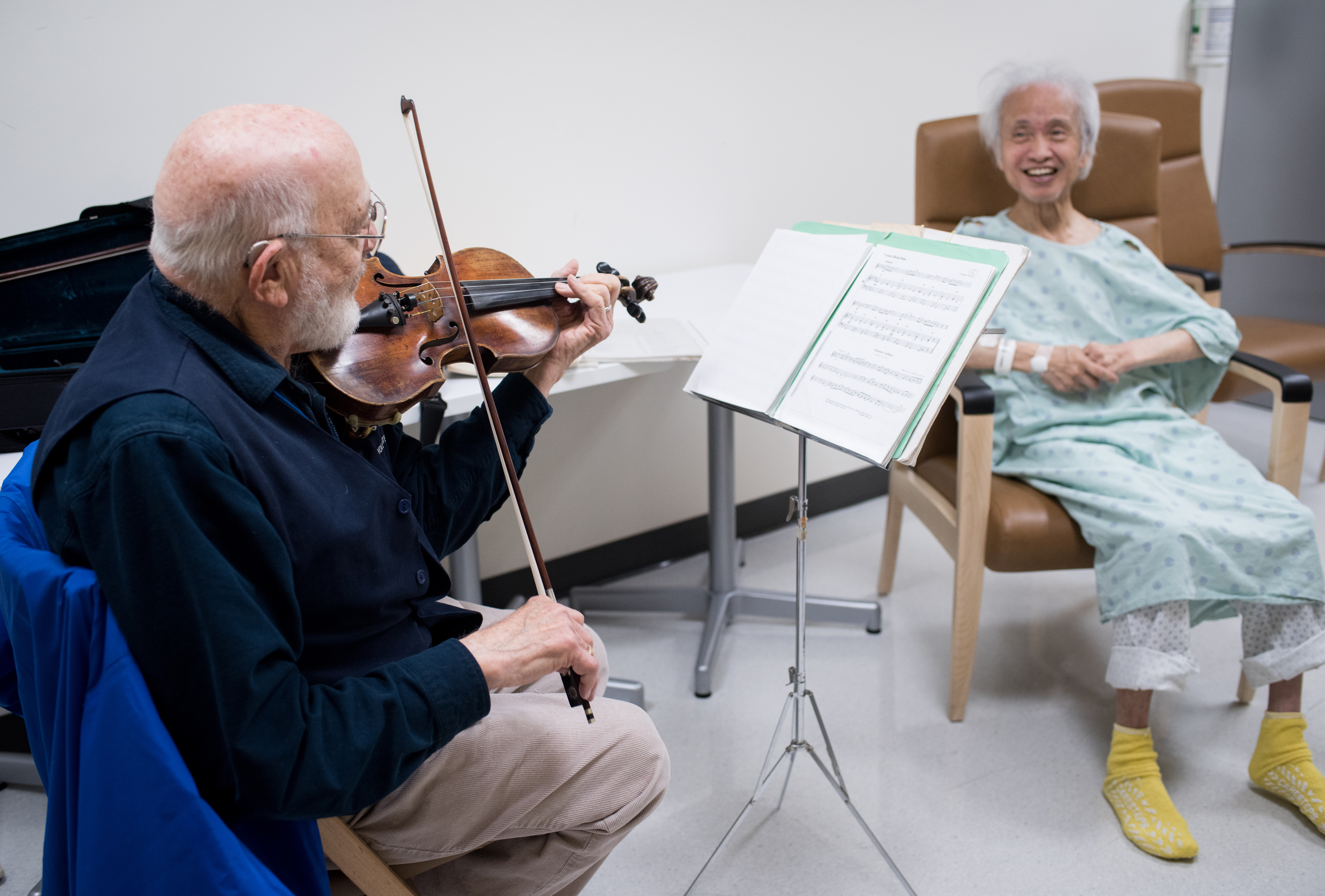 Every Thursday, Ed (violinist) performs as assortment of songs that are familiar to patients and families from any decade. The familiar melodies can be heard throughout the halls, but the best seats are in the ACE room. He brings music books filled with ethnically diverse songs, popular musicals, and plays a few song by requests. ACE is truly appreciative to have him part of the team. Volunteers will help gather participants to come to the ACE room, and supervise patients during the mini concert. Additional musicians and vocalists are welcomed to join!
Open Group
Monday through Friday from 3:00 - 4:00 pm
Open groups are designed to be fun social activities. Family friendly activities such as board games, Bingo, movies, art, group reading, storytelling, bubble making, birthday parties, self-care workshops, singing groups, or community presentations. Our volunteers bring their enthusiasm to the ACE room and teach our older patients how to embrace their inner child.
Donations
The ACE Program activities are primarily supplied by generous donations from the community. All monetary donations will be used to supply group activity materials, such as games, art and craft supplies, playing cards, holiday decorations, large picture books, and music.
We also accept unused arts and crafts supplies and gently used clothing (men and women). Please contact Dianne Montances at [email protected] for more information.
We strive to make the ACE unit a space for older adults to heal and return to a life of independence.
Please click "Direct your gift to a specific area" to donate to "Geriatric ACE Program".
Contact Information
Dianne Montances
Health Care Navigator
505 Parnassus Ave.
San Francisco, CA 94143
415-502-5010 (office)
​​​​​​​[email protected]